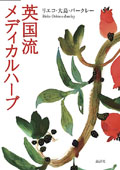 It has taken me 3 years to complete, but I am pleased to announce that my first Herbal book will be published in Japan on 27th September. The book is only published in Japanese and
titled British Herbal Medicine and Healing.
The publication contains more than
80 different herbs and their 'Materia medica'(actions/how to use).
Also, many useful recipes for stress related
symptoms such as Migrane, insomnia, IBS etc. If you are interested you can find out more information from
this site
.