There are a numerous amount of herbs you can find in fields
or hedges.
Just looking around on your steps and alleyway you could
catch glimpse at many species of herbs.
Of course, it's not that easy for identifying each ones initially, but you will get confidence soon in identifying them. If you are keen to gain knowledge, I would strongly suggest joining a Local Herb Walk by a Herbalist. This way you can learn about various herbs and
their uses as well.
If you cannot find any Herbalists or a Herb Walk then it would be
worth a visit to any good Botanical or Physic Garden.
Unfortunately, I am not a expert on plant identification(I wish I
was),but, I began to gain confidence from the many Herbal walks
and lectures by senior Herbalists I attended.
One day I went out for a walk in countryside looking for herbs as
usual, then all of a sudden several familiar herbs caught my eye
and strangely enough they were all Asteraceae (Compositae) or
more commonly you would know as the Daisy family.
They looked very similar to each other, so I thought I would take a photograph of it, which is below.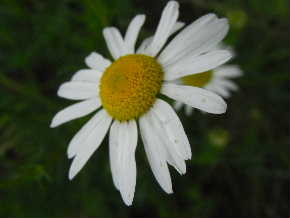 Common Name:
Stinking chamomile
Others:dog chamomile, dog fennel,
mayweed, mayweed chamomile,
stinking mayweed,
wild chamomile.
Botanical Name:
Anthemis cotula L.
In some countries they might use this plant medicinally but we do
not use it much in this way in the U.K. I personally have never
used it but, I have learned that it has an action resembling that
of the Chamomile(German?) but it tends to be weaker.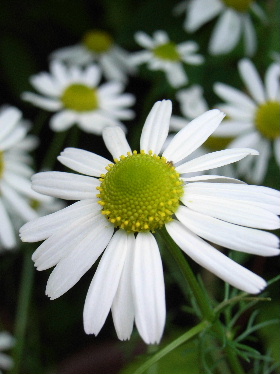 Common Name:
Chamomile German
Others:wild chamomile, Hungarian chamomile, and scented mayweed.
Botanical Name:
Matricaria rectita L. ,
Chamomilla recutita L.
Matricaria chamomilla L
This is the Chamomile you know as
Chamomile tea from shops, the flowers are
so aromatic.
It also has so many
other medicinal actions and uses e.g.
Anti-inflammatory,
Spasmolytic,
Carminative, Sedative (mild), Diaphoretic,Anti-ulcer,
Bitter-tonic, Vulnerary etc,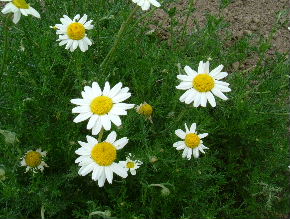 Common Name
:
Chamomile Roman,
Others: garden camomile,
ground apple,
Botanical Name
:
Anthemis nobilis
The whole plant has
gorgeous aroma and, we use it's essential oil for aromatherapy.
You can use this flower internally, but the taste of it may be an
acquired one for the palate.
Also, you will find it difficult to locate and purchase the dried
Roman Chamomile flower in shops.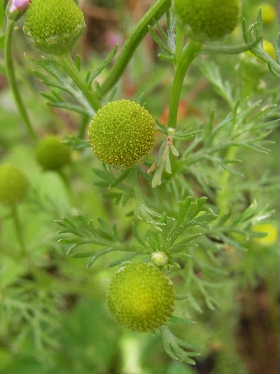 Common Name
:
Pineapple weed ,
Other:disc mayweed
Botanical name
:
Matricaria discoidea,
Again, I never used this herb myself but it has
been used internally,
I was told the actions
resembles that of the
German Chamomile but
in a weaker strain.
It also has soft and
sweet aroma.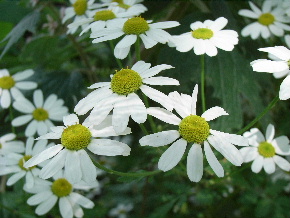 Common name
Feverfew:
Botanical Name:
Tanacetum parthenium L.
It looks like
chamomile, but if you
look carefully you can see a completely
different leaf shape,
I will also write about this plant sometime again.
Perhaps you might know this herb used for Migraine.
We often prescribe this herb for prevention and treatment of
migraine and tension headaches.